The third phase, which involves getting rid of the garbage, is the same whether you're working on a huge construction job or cleaning up after a home improvement effort. Even the most common types of businesses need to have a specific plan in place for the removal of waste from their location.
Before trash can be taken to a landfill, dumpsters offer a practical and risk-free method for disposing of waste due to the portability and capacity of these containers. You have numerous options to choose from when it come to the type of dumpster, and these options differ in terms of how they fill, the material they carry, & how they are delivered.
Commercial Garbage Receptacle
In most public venues, including restaurant, gas stations, & parking lots, you can find commercial dumpsters. These are the typical containers found in these types of locations. In most cases, the rental of these dumpsters is considered to be an ongoing commitment, and they feature regularly scheduled pickups during which trash and debris are removed by dump trucks.
A lid is frequently included on business dumpsters. This cover serves several purposes, including odour control, insect control, and protection from the elements. There are two distinct types of dumpsters used in commercial settings.
Front Load Dumpster
A front load dumpster is one that has its contents loaded onto a truck from front, as the name suggests. In most cases, the top of the container slopes downward in order to facilitate the disposal of waste. In addition, the container features openings on either side where a dump truck's prongs can be inserted, allowing the dumpster to be lifted up and out of the way.
Front load dumpsters have capacities ranging from 2 to 8 cubic yards and have a small form that allows rubbish to be readily deposited. Front load dumpster are a suitable alternative for daily waste because of their compact shape and slanted front.
Rear-Loading Garbage Container
On the other side, a dumpster that loads from the rear has a sloping back and poles that reach out from it. A system consisting of a hinge and a winch is utilized in order to empty its contents into a truck. In place of an overhead motion, the truck makes a manual hook-up to the back load dumpster, & then pulls the dumpster upward so that waste can fall into it.
It is somewhat more challenging to dump rubbish into back load dumpsters as a result of the rear slant that they have. On the other hand, they often have a greater capacity for waste and their vertical shape allows them to fit into more restricted areas.
Roll-Off Dumpsters For Construction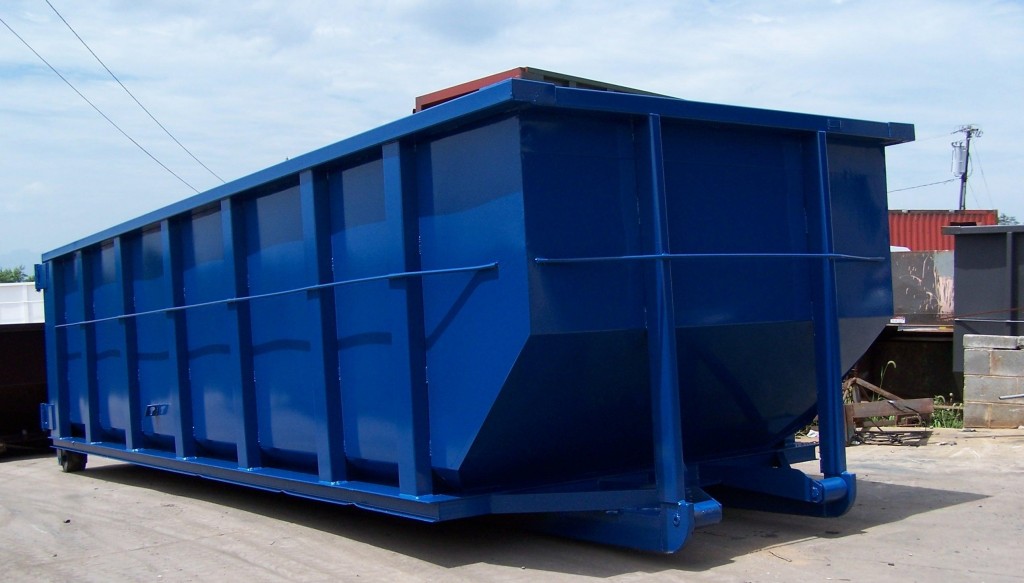 On construction job sites, the container that is observed the most frequently is referred to as a construction dumpster. These enormous dumpsters with open tops are often rented on a short-term basis by businesses. They are flexible and can be utilized for a range of purposes.
Roll-off dumpsters are another name for dumpsters used in the construction industry. This is due to the wheels located on the underneath of the dumpster, which assist in transporting the container. They have capacities ranging from 10 to 40 cubic yards, making them a great choice for a broad variety of cleanup operations, such as the remodeling of buildings, the demolition of structures, the removal of roofs, and the disposal of yard debris.
In addition, there are construction dumpsters that are built for particular functions. The removal of yard trash and soil compound is the responsibility of a dumpster designated for dirt, but specific dumpsters are meant for the disposal of clean concrete, brick, & asphalt.
Residential Dumpster
Residential dumpsters are quite similar to dumpsters used in construction, but they are used for specific residential jobs, such as cleaning out clutter in the home, renovating the outside or the inside of the house, getting rid of rubbish, and removing flooring. They are a short-term rental solution and, similar to dumpsters used in construction, they are removed once they are filled up.
There is a wide range of storage capacity available for residential dumpsters, ranging from "low boy" 10-yard containers for dirt trash to larger residential dumpster trailers that are driveway-safe.